Chamonix – Haute Route
Haute Route – From Chamonix, France to Zermatt, Switzerland
[August – September 2013]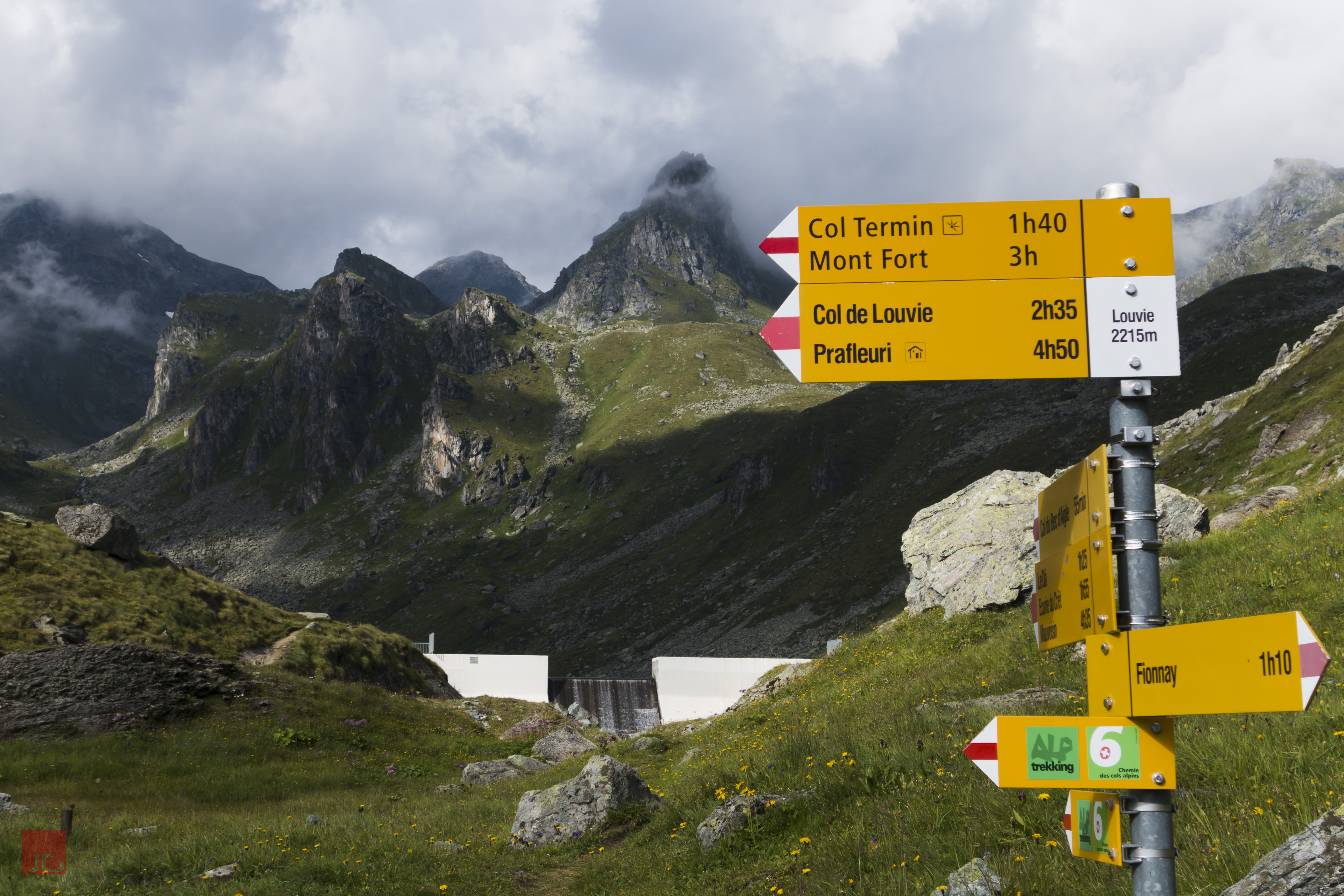 Day 1: We hiked the Grand Balcon Sud (from Plan de l'Aiguille to Montenvers) on the first day in Chamonix.
Day 2: On the 2nd day, we took the train from Chamonix to Le Chable and then bus to Fionnay, before hiking vertically up to Cabane de Louvie.
Day 3: We traveled from Cabane de Louvie to Cabane de Prafleuri. Possibly the longest of all the days – we crossed two Couloirs (Col. de Louvie and Col. de Prafleuri), several boulder fields, and toes of two glaciers (Grand Desert and Prafleuri).
Day 4: This was an easy day. We hiked from Cab. de Pralflueri to Barrage Dixence, then took a bus to La Sage. In between we stopped at Vex for lunch. We spent the night at Hotel de La Sage. It was a much needed break to do our laundry and rest our knees.
Day 5: This was a fairly tiring day with 5700 ft. elevation gain and 2000 ft. elevation loss. We had an early start from La Sage in Val d'Herens, climbed over Col du Tsaté into Val de Moiry to Cab. De Moiry. Col. de Moiry, perched on top of a knoll over Moiry Glacier, is probably the most dramatic 'cabane' that we stayed in.
Day 6: I woke up early to catch the sunrise over Dent Blanche. After a quick breakfast, we started early from Cabane de Moiry as Meena was concerned about down-climbing the rockfall below the hut. We accompanied Martin, Molly and an elderly couple from Virginia on a leisurely hike to Barrage de Moiry. The trail to the barrage retains the altitude, providing sweeping views across Val d'Anniviers (from Moiry Glacier to Lac. De Moiry at the bottom of the valley)
At the Barrage, we had a celebratory round of Aperol Spritz before taking the local Postbus to Grimentz. At Grimentz, we bid farewell to Martin and Molly, before continuing on to Sierre. From Sierre, we took the Matterhorn Gotthard Bahn (http://www.matterhorngotthardbahn.ch/) to end our day in Zermatt.
Final Day: On the last day in Zermatt, we decided to end the trail with the hike to the Hörnlihütte, on the Hörnli ridge of the Matterhorn.